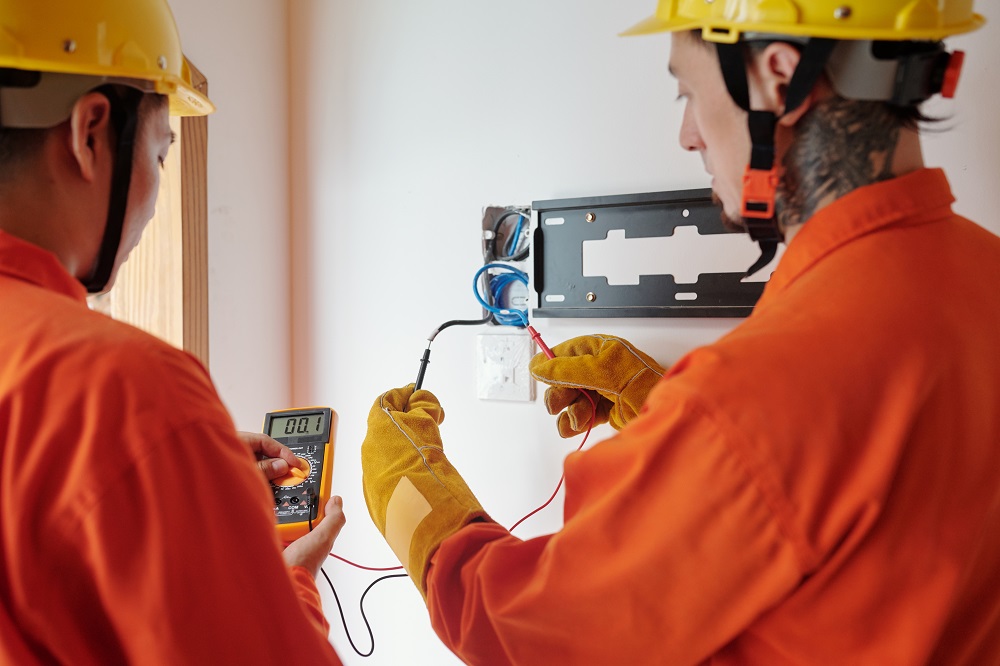 Installing electrical wiring in a home or office is a critical job that a qualified electrician should only perform. Electrical wiring installation involves running electrical cables and wires through walls and ceilings and connecting them to outlets, switches, and other electrical devices. The process can be complex and dangerous, so hiring a professional electrician with the experience and knowledge to do the job safely is vital.
Hiring a reputable and experienced electrical service company like JG Beacham is vital if you are looking for electrical wiring installation in Savannah, GA. JG Beacham Electrical is a well-known commercial and industrial electrical contracting company that provides timely and cost-effective service. The licensed and experienced electricians at JG Beacham Electrical can provide electrical wiring installation services for your home or business.
You can count on us to provide prompt, affordable, and dependable service that minimizes downtime and eliminates scheduling conflicts at any time. For your electrical wiring installation needs in the Savannah, GA area, JG Beacham Electrical is your best choice. Call them today!
Electrical Wiring Installation For Your Business Or Home! Contact JG Beacham Electrical Now!
What You Should Know About Electrical Wiring Installation
Learning the fundamentals of wiring materials and installation is a good start if you consider starting an electrical project. Understanding basic wiring terminology and recognizing the most common types of wire and cable will aid in investigating wiring problems and selecting wiring for new installation and remodeling projects.
You should be aware of all the fundamentals of electrical wiring.
Any electrical wire installation must begin with the proper wire size. Wire sizing is based on the American Wire Gauge (AWG) system and indicates the diameter of the metal conductor of the wire. A wire's gauge refers to its current-carrying capacity or how much amperage it can safely handle. Therefore, when selecting the appropriate wire, you must consider the wire gauge, power, and intended use.
Wires not correctly matched to the amperage of the circuits they serve to pose a significant risk of short-circuiting and catching fire.
Sheathed Non-Metallic Cable
Most interior wiring is done with non-metallic, or NM, cable, also known as Romex. Three or more wires are wrapped inside a flexible plastic jacket or sheathing to form an NM cable. Most interior circuits use it for outlets, switches, light fixtures, and appliances. Learn the fundamentals of NM cable to select the best type for your next electrical project.
Electrical Wire Color-Coding
Color coding is used on the outer sheathing of bundled electrical cables and individual conduction wires within lines or the conduit. Understanding color coding allows you to identify the wiring used for and maintains consistency within an electrical system.
Labeling Electrical Wiring
Markings are stamped or printed on the insulation or outer sheathing of electrical wires and cables. These markings provide vital information about the wiring and insulation, such as wire size and material, insulation type, number of wires contained (within a cable), and any unique ratings or characteristics of the wire.
The standard electrical cable is intended to be run indoors, where it will remain dry and protected by walls, ceilings, or floors. However, the direct burial cable can be installed underground with or without conduit and is required for outdoor projects or when wiring underground (depending on local building code rules). Individual conducting wires in the direct-burial cable are embedded in solid vinyl to protect them from moisture completely.
Electrical Wire Stripping
Stripping electrical wire entails removing the plastic insulation surrounding the wire's metal core. Therefore, it is critical to proceed with caution to avoid damaging the metal. The procedure is straightforward, but it necessitates using a specialized wire stripping tool and understanding how to use it.
Number of Allowable Wires In Conduit
There is a limit to the number of wires that can be run inside the conduit when running individual electrical wires. The maximum number allowed is known as the "full capacity," determined by several factors such as conduit size, wire gauge, and conduit material. Even when they are nominally the same size, metal (EMT), plastic (PVC), and flexible conduit all have different fill capacities.
Wiring an Electrical Circuit Breaker Panel
The power distribution point of a home electrical system is the electrical panel, also known as the service panel. This is where the house's circuits receive power and are protected by breakers or fuses. A licensed electrician should wire an electrical panel, but DIYers should have a basic understanding of how a forum works and the critical role that breakers play in any system.
Electrical Disconnect Switches
An electrical disconnect switch allows you to turn off the power to your home's electrical system from outside. It is usually installed beneath the electric meter, either on the side of a house or on a utility company power pole. A service disconnect switch is what this is. Not every home has a dedicated disconnect. However, they are frequently used when the service panel (which also serves as the main disconnect) is located inside and thus inaccessible to emergency responders or utility workers. A disconnect, like electrical service panels, must be installed by a licensed electrician.
Frequently Asked Questions
What Are Residential Electrical Installations?
Residential electrical wiring installation, as the name implies, is for homes. Only the best electrical services should be used in your home. Microwaves and televisions, for example, require electricity. Furthermore, the lighting and cooling systems are powered by electricity. A skilled electrician ensures that the correct wires are installed. 
What Are Commercial Electrical Installations?
Commercial electrical installations are more significant projects that may include shopping malls, manufacturing plants, and office buildings.
What Is the Technical Name for Commercial Electrical Wiring?
Three-phase power is more commonly used in commercial electrical wiring than single-phase power. In layman's terms, cables now have four or five wires rather than just two. In addition, three live cables, one neutral cable, and one earth cable are included
Expert Electrical Wiring Installation Services
If you need electrical wiring installation in Savannah, GA, you must hire a reputable, experienced company like JG Beacham Electrical. 
JG Beacham Electrical is a well-known commercial and industrial electrical contracting company focusing on fast and affordable service. Contact us today for your electrical installation needs!
Electrical Wiring Installation For Your Business Or Home!
Call JG Beacham Electrical at +1-800-500-7600!

JG Beacham Electrical
3922 Geraldine Lane, Electric Street, New York, SC 29201, USA
+1-800-500-7600