Vehicle Charging Stations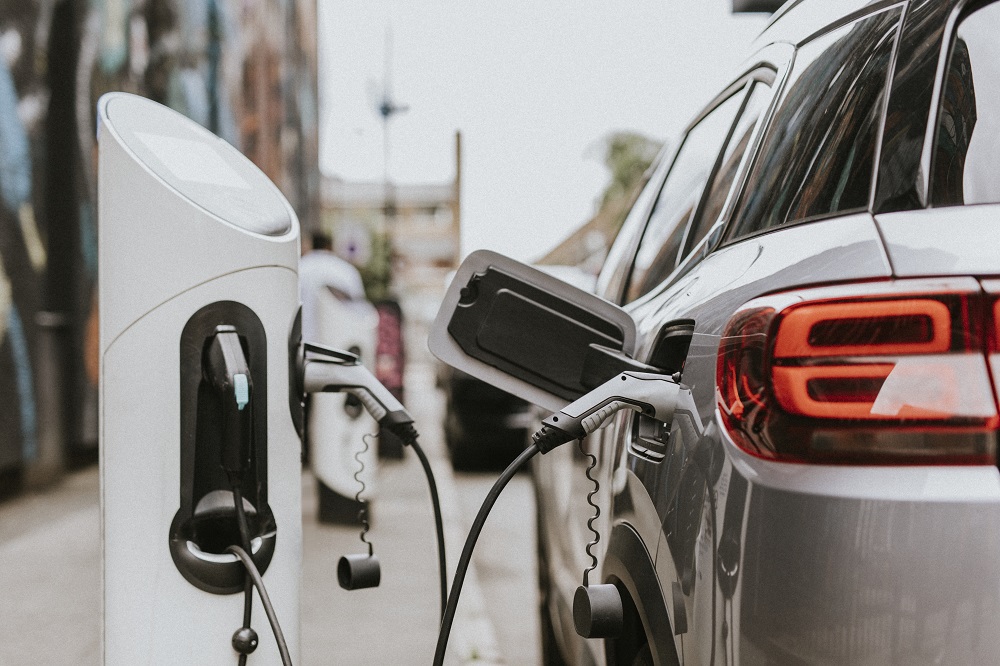 Electric vehicles have been increasingly popular. Carmaker after carmaker has either introduced or announced intentions to deploy new electric vehicles (EVs). And there are plenty more on the way. Several automakers claim that by 2030, half or more of their cars, trucks, and SUVs will be electric.
JG Beacham Electric aims to help with electric vehicles' infrastructure as they become more common. We provide top-of-the-line electric vehicle charging stations as well as high-quality installations. We want to assist our clients in decreasing their negative environmental impact while living more convenient lifestyles. In recent years, electric cars have grown in popularity in the United States, and it's vital that demand for EV charging stations stays up.
Looking For Vehicle Charging Station Installers?
Call JG Beacham Electric Today!
You Can Reach Us At 912-598-6230!
Installation of Electric Vehicle Charging Stations
Our electrical experts can provide you with high-quality EV charging station installations and ideal supplies if you want to install an electric vehicle charging station at your home or at a commercial facility. We only use the best equipment and supplies from leading producers of electric vehicle chargers. We guarantee that we only use the best equipment and supplies from the leading producers of electric vehicle chargers.
Our qualified electricians are specialists with considerable training and expertise who will be able to securely and professionally install any electric vehicle charging station. We also offer service, repairs, and replacements for EV charging stations whenever they break down. We promise your complete satisfaction with all of our services and products, and we look forward to supporting you.
If you have any questions or would like to schedule an appointment with one of our experts, please contact us right away.
There are different kinds of charging stations based on location and equipment needed. Let's take a look at a few things you need to know about EV charging stations.
Home Electric Vehicle Charging Stations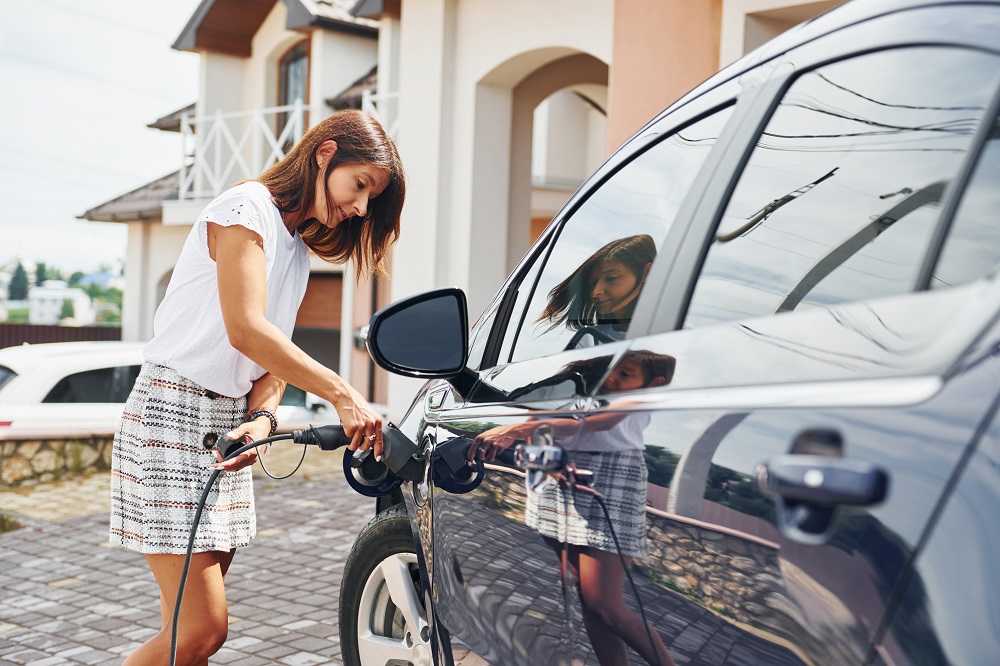 Electric vehicles manufactured by different automakers have been on the rise in recent years, and the need for electric car charging stations has grown at a similar rate. Our specialists at JB Beacham Electric can help you install electric vehicle charging stations in your home.
Our experts will be able to assist you with every part of the EV charging station installation process. First, we'll evaluate your home and electrical system and your vehicle to determine your exact requirements for an electric car charging station. Next, we'll collaborate with you to choose the best charging station for your home and vehicle. Then, we'll install your charging station to ensure that it's entirely functional, effective, and safe.
Residential electric vehicle charging stations are divided into three categories:
1. Electric Vehicle Charging Stations with Level 1 Charging Cords
Level 1 charging cords come with every electric car and have a standard three-prong plug that can be plugged into any properly grounded power socket. Unfortunately, this is the slowest charger, and it's usually only practical for plug-in hybrids with smaller battery packs.
2. Electric Vehicle Charging Stations with Level 2 Charging Cords
Level 2 chargers, sometimes known as "240-volt" chargers, are at least twice as fast as Level 1 chargers. For overnight recharges, battery-electric cars typically require Level 2 home charging stations. Our professionals can handle all of the wiring adjustments that this installation may require, and the job will be completed safely and professionally.
3. Electric Vehicle Charging Stations with DC Fast Charging
DC fast chargers are commonly mislabeled as "Level 3." These are highly high-powered and use direct current (DC) rather than alternating current (AC). These are only used in public locations.
You'll almost certainly need a Level 2 charger if you're having an electric car charging station installed at your home. Our experts will help you choose the best brand and model of Level 2 charger based on your vehicle and your home.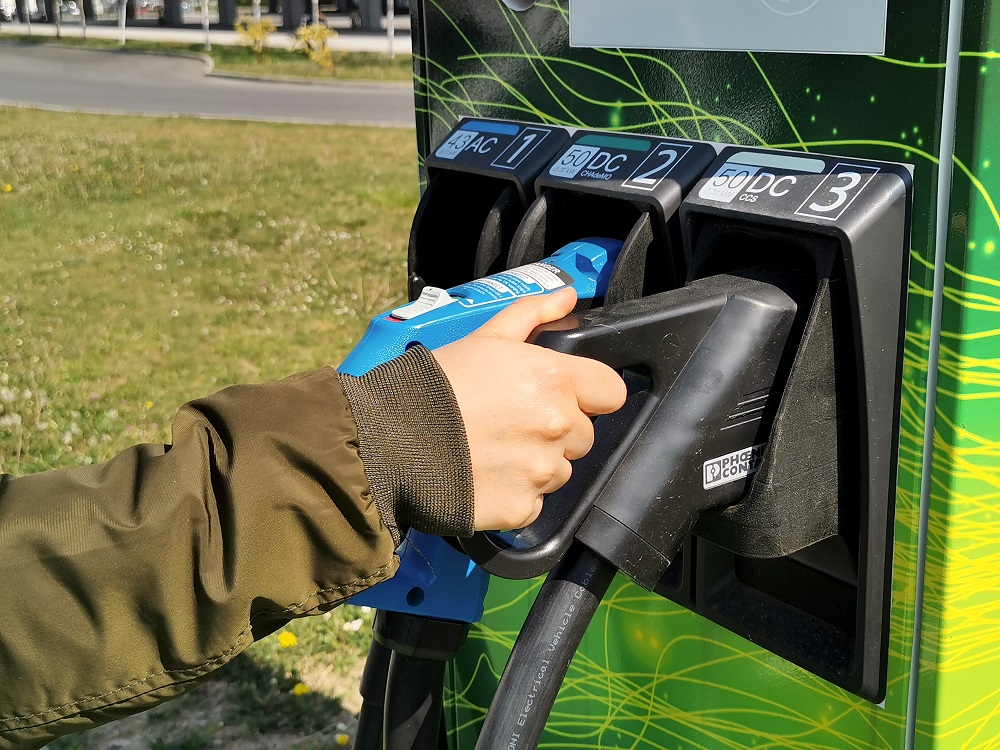 What's the point of Level 2?
Level 2 chargers let you charge your electric vehicle over the course of a few hours, allowing you to charge swiftly and easily whenever you need it. Level 2 charges 3-5 times faster than a standard Level 1 charger. EV chargers at Level 2 are dependable, safe, and energy-efficient. They save money on energy use and charge during off-peak hours.
What's the benefit of having an EV charging station at home?
With your dependable, safe, and simple-to-use charging station, you can charge your electric vehicle fast and conveniently. As a result, you will be able to reduce your charging time and get back to living your life. Allow our professionals to walk you through your Level 2 electric vehicle charger options so you can make the best decision for your house.
Electric Vehicle Charging Stations in the Workplace
Employees and employers alike benefit from the installation of electric vehicle charging stations at work. Employers may achieve sustainability goals, recruit top talent, boost productivity and satisfaction, and improve their brand image. Employees will be able to save money on their commutes and have more options for commuting. Everyone can contribute to cleaner air and lower greenhouse gas emissions.
Employees and employers can collaborate with JG Beacham Electric to discover the best EV charging stations for their workplaces. As a result, our electric vehicle charging station installations will be done on time and on budget, and the EV charger will be completely reliable.
Commercial electric vehicle charging stations are becoming increasingly popular. Having these stations for employees and visitors would greatly benefit them in terms of convenience. In addition, being green is good for the environment and business. Our EV charging station installation professionals at JG Beacham Electric can help your business fuel the future with a high-quality electric car charging station and installation.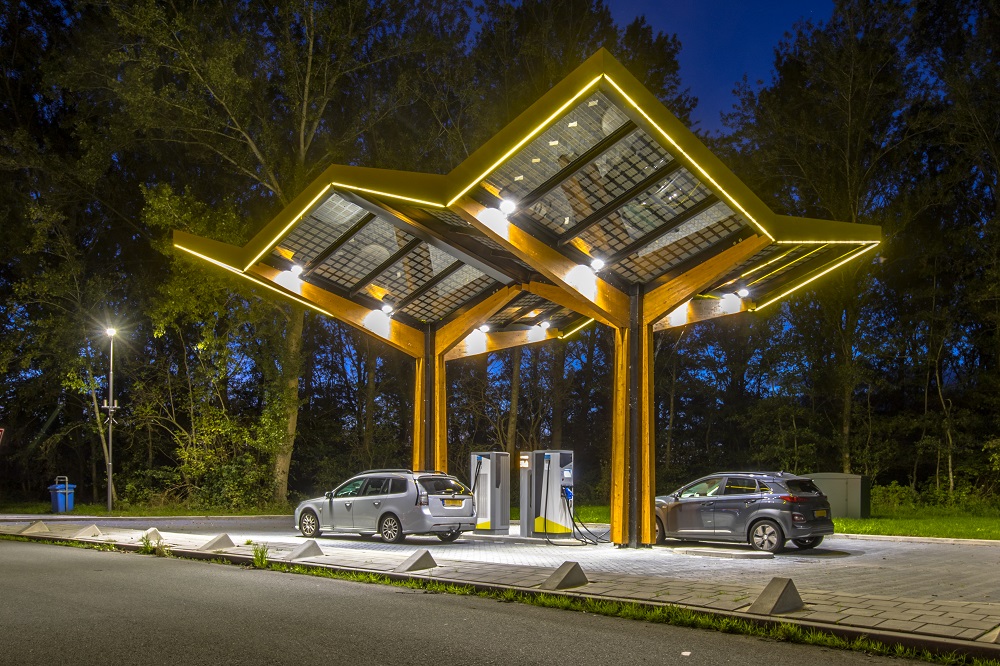 We understand the demand for electric vehicle charging stations is apparent. Our professionals can assist you with installing electric car chargers to keep your business or commercial property ahead of the curve. In addition, we provide turnkey installations, which means we'll take care of everything from the initial property assessment to the final installation.
Contact JG Beacham Electric today to get started on your EV charging station installation, and we'll be happy to help.
Our professionals can install EV chargers in a variety of settings.
EV Chargers for a Variety of Properties:
Workplaces
Hotels
Multi-Resident Real Estate
Restaurants
Shopping Malls
Parking Lots
Garages
Municipalities
Business Benefits of Electric Vehicle Charging Stations
Attract elite personnel and powerful clients
Showcase your company's creativity and leadership
Assist in the development of future infrastructure
After our experts assess your property, we'll collaborate with you to determine your project's exact requirements. Then, we'll assist you in choosing the ideal electric vehicle charging station for your property from our extensive list of reputable manufacturers.
Quality Assurance
Our professionals always guarantee the finest quality workmanship, and we only install the best products available. Our company's purpose is to assist in the construction of EV charging stations that we believe will be a valuable part of the future, and we endeavor to meet and surpass the expectations of each of our clients in every job.
How to Install EV Charging Stations in a Safe, Quick, and Thorough Way
You might be in the market for a new electric vehicle, or perhaps you've decided it's finally time to install that Level 2 charger for an older electric vehicle. Whatever the circumstance, it's critical to know that when you have a new electric vehicle charging station placed at your home, the job will be done correctly. Not just anyone will do the job of constructing electric vehicle charging stations in your preferred location.
Level 2 charging stations will almost certainly require some electrical wiring modifications, and installing them can be complicated and even risky. That is why our professionals at JG Beacham Electric can provide turnkey installations for electric vehicle chargers, taking care of every detail from start to finish.
JG Beacham Electric EV Charging Station Services
Call our experts immediately if you're interested in installing electric vehicle charging stations in your home. To provide our clients with the most outstanding quality EV charging installations possible, we follow the processes below on every job.
EV Charging Station Customization
Every job starts with a visit to your home to inspect your electrical system and understand your specific requirements as a driver. Our certified electric vehicle charging station installers will be able to work with you to determine the best electric car charger for your home and vehicle. Our services are entirely tailored to your requirements.
Inspection and Permitting
Our qualified and accredited EV charging station installation specialists have undergone extensive training, so we'll be able to handle all of the job's local permitting requirements. We'll know which permits are required as electricians in the United States, and we'll be able to handle the entire process of evaluating your home and obtaining the relevant permits.
Our installers know how to prepare these paperwork and make the process go as smoothly as possible. As a result, we ensure that our customers receive their new EV chargers as soon as possible without sacrificing safety or service quality.
Installation of EV Chargers: Safety and Reliability
Our professionals will ensure that your charging station is put in the precise location, with all of the necessary changes, to ensure complete reliability. Electrical equipment installation can be extremely risky, and our experts will be able to ensure that the job is conducted as safely as possible.
Frequently Asked Questions:
Do All Electric Cars Use the Same Charger?
Electric car chargers are, in general, universal. All electric vehicles utilize the same standard connector for Level 1 and Level 2 charging, the two most prevalent EV chargers.
Are Public Charging Stations Free in the USA?
Public charging stations in the USA can sometimes be free. Some automakers, such as Hyundai, Nissan, and Tesla, may offer free public charging at specific charging stations. Public charging stations can also be pay-per-use or subscription-based, with networks or property owners setting the costs.
Can I Plug an EV into a Regular Outlet?
Yes, you can plug an EV into a regular outlet. Today's electric appliances or gadgets all come with a charging unit that can be plugged into any ordinary 110-volt outlet. This device allows you to charge your electric vehicle using standard household plugs. The disadvantage of charging an electric vehicle with a 110-volt outlet is that it takes a long time.
The Best Installers for Electric Vehicle Charging Stations
JG Beacham Electric is a group of trained and professional electricians. We provide electric vehicle charging station installation for residential and commercial purposes. Contact JG Beacham Electric if you're interested in installing electric vehicle charging stations for your home or office.
Call JG Beacham Electric
at 912-598-6230 Today for a Free Estimation!
JG Beacham Electric Also Offers Dock and Marine Electrical
JG Beacham Electric has a wide array of electrical services. With new innovations, we are aimed to stay on top of the needs of the customer when it comes to electrical installations, repairs, maintenance, and service work. It is our mission to provide exceptional quality work to our customers in both residential and commercial communities.
JG Beacham Electrical
414 E. 35th St. Savannah
GA 31401
912-598-6230